After 10 years of operation, more than 660 million CI Plus certified devices have been deployed which makes CI Plus LLP the #1 Certificate Authority in the world.
CI Plus technology is in use in devices of 110+ CE Manufacturers, protection content for 100 Pay-TV operators in 40+ countries.
CI Plus LLP is referenced as a trusted export by all major CAS vendors, including Nagra, Synamedia, Irdeto, Conax, Verimatrix, Cryptoguard, Viaccess-Orca and Arris.
Beyond the traditional protection of broadcast content, CI Plus has enabled innovative deployments such as OTT Wifi-CAM and Cable-VOD CAM.
There is a vast installed base of CI Plus devices in the field. Most of TVs sold in Europe support CI Plus, and the technology is starting to expand beyond: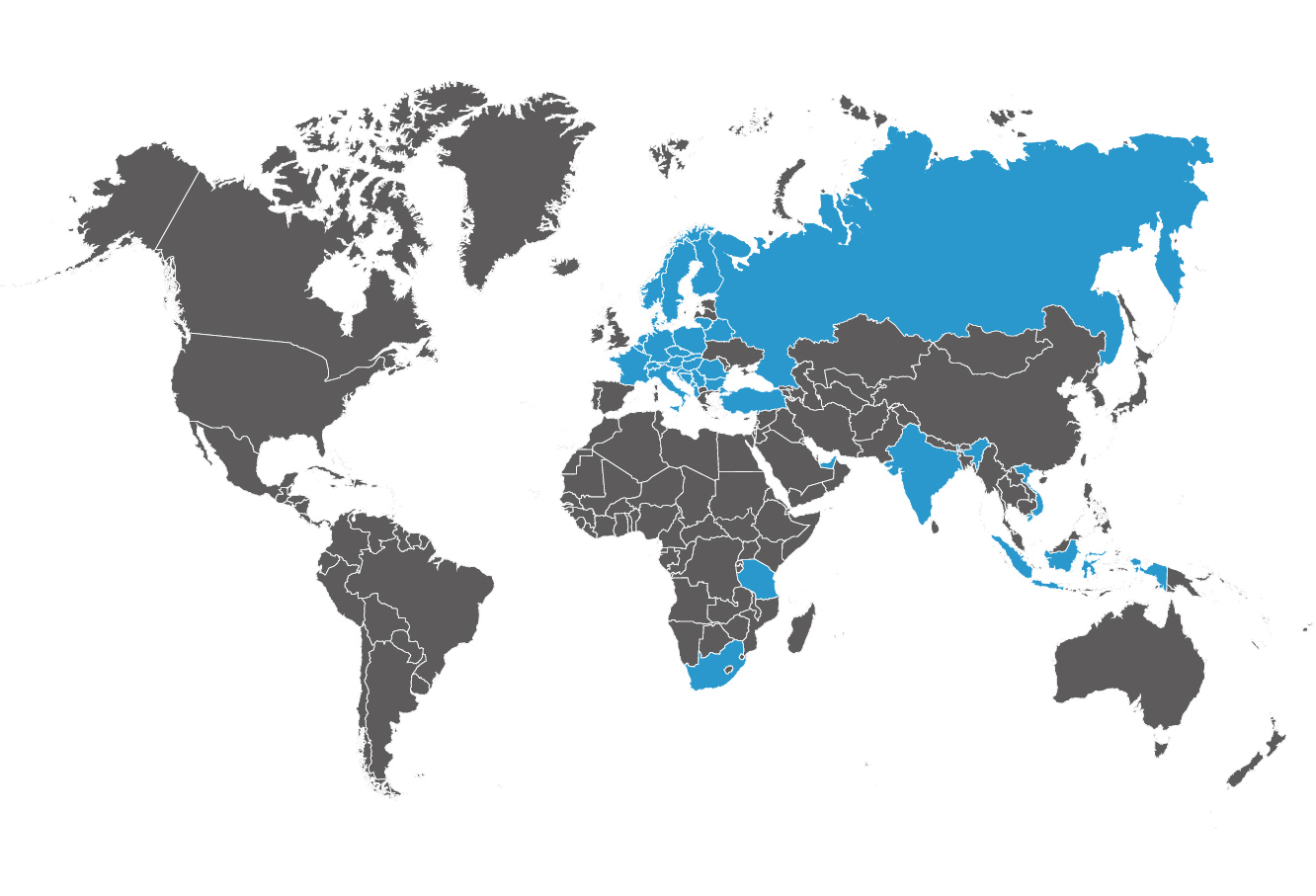 | | | |
| --- | --- | --- |
| A1 | Croata/Bulgaria | DVB-C |
| Airtel | India | DVB-S |
| Akado | Russia | DVB-C |
| AlmaTV | Kazakhstan | DVB-C |
| AVG | Vietnam | DVB-T |
| AZAM | Tanzania | DVB-S |
| Baltcom | Baltics | DVB-C |
| beInSport | France | DVB-S |
| Beltelecom | Belarussia | DVB-C & DVB-T |
| BIS TV | France | DVB-S |
| Bleusat | Africa | DVB-S & DVB-T |
| Boxer | DK/SW | DVB-T |
| Canal+ | France | DVB-T |
| CanalDigital | Norway | DVB-C & DVB-S |
| ComHem | Sweden | DVB-C & DVB-T |
| CosmosTV | Belarus | DVB-C |
| DishTV | India | DVB-S |
| Digiquest | Italy | DVB-S |
| DIGITALB | Albania | DVB-T |
| Digiturk | Turkey | DVB-S |
| Dsmart | Turkey | DVB-S |
| Ektra | Lithuania | DVB-C |
| ER-Telecom | Russia | DVBS |
| EVO TV | Croatia | DVB-T |
| Finnish cable | Finland | DVB-C & DVB-T |
| Fransat | France | DVB-S |
| HD+ | Germany | DVB-S |
| HP Produkcija | Croatia | DVB-T |
| Joyne | NL | DVB-S |
| Kazteleradio | Kazakhstan | DVB-S & DVB-T |
| Lama Group | Czech R. | DVB-S |
| Liberty Global | Poland/Switzerland | DVB-C |
| Liwest | Austria | DVB-C |
| M7 GROUP | Europe | DVB-S & DVB-C |
| Media Broadcast | Germany | DVB-T |
| MTS | Russia | DVB-C & DVB-S |
| Myhd media | UAE | DVB-S |
| Naxoo | Switzerland | DVB-C |
| NC+ | Poland | DVB-S |
| Nexmedia | Indonesia | DVB-T |
| NTV-PLUS | Russia | DVB-S |
| Orion Express | Russia | DVB-S |
| ORS | Austria | DVB-T & DVB-S |
| | | |
| --- | --- | --- |
| Pakt | Russia | DVB-C |
| Pyur//Telecolombus | Germany | DVB-C |
| PTT KDS | Serbia | DVB-C |
| Polsat | Poland | DVB-S |
| RCS | Hungary | DVB-C |
| RCS | Romania | DVB-C & DVB-S |
| RiksTV | Norway | DVB-T |
| Romtel | Romania | DVB-C |
| Rostelekom | Russia | DVB-C |
| Sattrakt | Serbia | DVB-C |
| SimpliTV | Austria | DVB-T |
| SBB | Serbia | DVB-C |
| SFR | France | DVB-C |
| Slovak Telecom | Slovakia | DVB-S |
| Skagen Antennelaug | Denmark | DVB-C |
| Sky Deustchland | Germany | DVB-S |
| Sky Italy | Italy | DVB-S |
| Skylink | Czech R./Slovakia | DVB-S |
| Starman | Estonia | DVB-C |
| Stofa | Denmark | DVB-C |
| Sunrise | Switzerland | DVB-C |
| T-COM | Croatia | DVB-S |
| Teleclub | Switzerland | DVB-C |
| Tele Columbus | Germany | DVB-C |
| Telecom Serbia | Serbia | DVB-C |
| Telenet | Belgium | DVB-C |
| Tivusat | Italy | DVB-S |
| Towercom | Slovakia | DVB-T |
| Tricolor | Russia | DVB-S |
| Tring TV | Albania | DVB-T |
| TTNet | Turkey | DVB-S |
| Turksat | Turkey | DVB-S |
| T-Mobile | Austria | DVB-C |
| UPC | Czech/Slovakia | DVB-C |
| Uzgidital | Uzbekistan | DVB-T |
| Vodafone | Germany/Romania/Hungary | DVB-C |
| Vodafone-Ziggo | Netherlands | DVB-C |
| Volia | Ukraine | DVB-C |
| Voo | Belgium | DVB-C |
| VTV | Vietnam | DVB-C |
| Wilhelm.Tel | Germany | DVB-C |
| Yousee | Denmark | DVB-C |
| Zeonbud | Ukraine | DVB-T |